Should I Get a Facelift?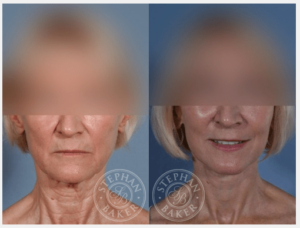 Facelift Before and After Photos
No one should undergo facelift surgery on a whim. If you are wondering whether you should get a facelift, carefully consider the following legitimate reasons to undergo facelift surgery.
Do You Have Signs of Facial Aging?
Facelift surgery is designed to correct signs of facial aging. Examples include skin sagging in the lower face, loss of muscle tone, and severe facial wrinkles. Most candidates should consider less invasive treatments such as facial fillers or BOTOX® Cosmetic before facelift surgery, as these may also provide the desired improvements. If these have not worked for you, a facelift may be the solution.
Do You Have Realistic Expectations?
Every candidate for facelift surgery must be mentally healthy and have realistic expectations. Dr. Baker can help you to look more youthful, but because your body has changed over time, he will not be able to make you look exactly like you did when you were younger. Dr. Baker will strive to achieve the best possible results, but it is important for you to have realistic expectations.
Are You a Good Age for Facelift Surgery?
Your age is another important factor. Patients younger than 40 may experience excellent results with less invasive facial treatments, while patients older than 70 may have severe skin laxity that could lead to lower quality facelift results. Patients between ages 40 and 60 are typically a good age for facelift surgery because they still have good skin elasticity and are more likely to need surgical facial rejuvenation.
Are You Physically Healthy?
A facelift procedure is a major surgery. You should be physically healthy in order to undergo this procedure. Be sure to inform Dr. Baker of all your health concerns during your consultation so that he can determine if the procedure is right for you.
Can You Afford It?
Facelift surgery can be expensive, but many feel that the cost is worth it. Don't rush into this decision if you are not financially prepared. If you prepare financially, your facelift will not cause you financial difficulty and you will be more able to enjoy the results.
Are You Prepared for Recovery?
Recovery after a facelift will take time. You will need to be physically prepared and be able to take time off of work. Bear in mind that, like any major surgery, there is a risk of potential surgical complications, and you should be prepared for this possibility. While most patients recover quite well from facelift surgery with no complications, recovery will still take some time and adjustment.
Do You Want to Look as Young as You Feel?
Physical signs of facial aging can make you look much older than you feel. A facelift can help you to look as young as you feel. If you have a desire to achieve this goal, you may want to consider facelift surgery.
You can learn more about facelift surgery by scheduling your personal consultation with Dr. Baker today. Please call our office at (305) 381-8837 or fill out our online contact form today, and we will help you schedule your appointment.