Ideal Facelift Candidates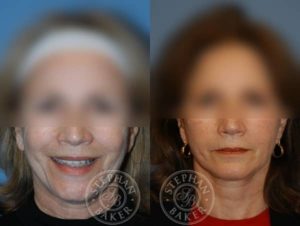 If there is one thing that you can guarantee, it's that you will age. There is no way around it, and the signs of aging often become visible long before we feel the age we look. Sun exposure, lifestyle choices, and even heredity all play a part in aging our faces, creating a disconnect between the way we look and the way we feel. This disconnect can negatively impact your self-esteem, and when at-home skin creams are not enough to counteract the wrinkles, loose skin, and volume loss in the face and neck, it may be time to consider facelift surgery.
Facelift surgery can subtract years from the appearance of your face and neck, allowing your outward appearance to match the vitality you have inside. When performed on the right candidate, facelift surgery can provide youthful, natural-looking results. If you think that candidate might be you, here are some things to keep in mind.
Ideal Facelift Age
While there is no minimum age at which you should consider facelift surgery, most are performed on patients 50 and older. Although not as common, patients as young as 40 may also qualify depending on their skin quality. As with any surgery, older patients who undergo facelift surgery have added risks. Anyone considering facelift surgery should be in good health.
Types of Facial Correction
Facelift surgery reduces the signs of aging by targeting several "problem" areas in the mid to lower face and neck. The best candidates for facelift surgery have at least one of the following:
Sagging of the skin and underlying muscles from the cheeks to the jawline
Loose or "folding" skin on the neck
Sagging tissues along the jawline that create jowls
Volume loss in the cheeks and around the mouth
Wrinkles around the nose and mouth
Benefits of Combined Neck Lift
One of the most common reasons for desiring a facelift and neck lift is the aging of the neck. Over time, excess skin develops and our necks lose definition, causing the appearance of a "turkey neck" or a double chin. If you have experienced this, you may be a perfect candidate for a combined facelift and neck lift. Treating your facial aging without treating your neck may not provide you with the youthful results you want.
Expectations
As with any cosmetic surgery, it is important to have realistic expectations of your results. This is the key to being satisfied with your procedure. Facelift surgery will not alter your bone structure or give you an entirely new appearance, and while facelifts can subtract many years' worth of aging from your appearance, it will not return you to the 20-something you once were. However, if you have realistic expectations, there is no reason you can't enjoy your more youthful, rejuvenated appearance for years to come.
Scheduling a Consultation
Facelifts are tailored to fit your needs, often combining a mid facelift with other procedures such as a neck lift, fillers, or upper eyelid lifts, and so the consultation process is of the highest importance. Matching the candidate to the ideal set of procedures is what will give you optimal results. During your consultation, Dr. Baker will go over all of your options to determine which techniques are right for you.
If you think you are a candidate for a facelift, schedule a consultation with our board-certified plastic surgeon, Dr. Baker, today. For more information, call our office at (305) 381-8837 or fill out our online contact form.