Do I Need an Eyelid Lift or a Brow Lift?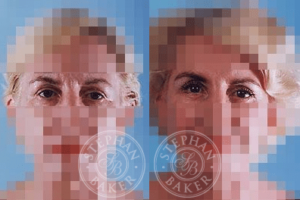 A tired, aged appearance is often attributed to the eyes. The eye and brow area can develop wrinkles, sagging skin, and fine lines that make you look older. Both a brow lift and an eyelid lift can help to correct signs of aging in this area of the face. Here are some of the key differences between the procedures and how to know which one you might need.
Eyelid Lift
An eyelid lift improves the appearance and functionality of the eyelids. For upper eyelid surgery, Dr. Baker will make an incision along the natural crease of the eyelid to remove excess skin and fat. This will eliminate eyelid hooding and create a more youthful appearance. For lower eyelid surgery, Dr. Baker will make an incision either just beneath the lash line or inside the eyelid. With this procedure, Dr. Baker will remove excess fat as well as skin or muscle tissue, if necessary, to eliminate puffiness and bags beneath the eyes. The upper eyelids, lower eyelids, or both can be treated according to the patient's needs.
Brow Lift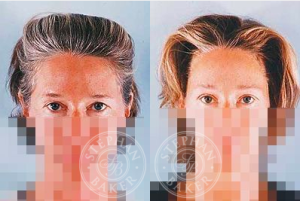 A brow lift improves the placement of the brows to eliminate sagging and refresh your appearance.
A brow lift improves the placement of the brows to eliminate sagging and refresh your appearance. Typically, Dr. Baker will make an incision behind the hairline to lift and raise the brows into a more favorable location. In patients with receding hairlines, Dr. Baker may hide the incision in a deep forehead line or just above the brow hairs. A lateral brow lift is an excellent alternative and smaller procedure that raises only the outer third of the brows.
Which Do You Need?
In determining which of these procedures you need, you should consider whether the problems lie with your brow or your upper eyelids. A brow lift will sufficiently raise droopy eyebrows to create a more awake and refreshed appearance. However, if a tired and aged appearance is caused by excess upper eyelid skin, an eyelid lift may be necessary. There is a simple test that individuals can do to figure out which procedure they probably need. For this test, place your index fingers along your brows and raise them to a more favorable position. If this raises most of the excess skin along the upper eyelid, brow lift surgery may be all that is needed. If excess tissue remains on the upper eyelids after raising your brows, an eyelid lift could be necessary. Usually, the forehead muscles will age the slowest, meaning that patients will be more likely to need eyelid surgery before needing brow lift surgery. Dr. Baker will carefully evaluate your face to determine which procedure will be best for your needs.
Brow Suspension
Brow suspension is a minor procedure that is typically combined with upper eyelid surgery. This procedure can reduce outer brow heaviness by suspending the outer brows at a higher level. With brow suspension, patients can achieve a more lifted appearance for both the eyelids and brows. After a discussion with Dr. Baker, you may find that an upper eyelid lift with brow suspension will accomplish your desired goals.
If you are not sure whether you need a brow lift or an eyelid lift, Dr. Baker will help you determine which procedure(s) will best achieve your desired goals. To schedule your consultation with Dr. Baker today, call (305) 381-8837 or contact us online.