Cosmetic vs. Functional Blepharoplasty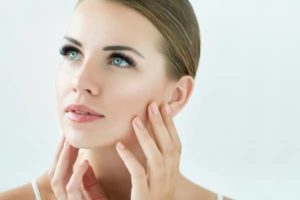 The lower eyelids can also change as a result of the aging process.
When you hear that someone has recently gotten plastic surgery or is considering plastic surgery, your first thought might be that they want to enhance or rejuvenate their appearance. While many plastic surgeries are performed for cosmetic reasons, some also have functional purposes. After consulting with their doctor, a person might decide that surgery is the best way to improve a medical issue.
Blepharoplasty, aka an eyelid lift, is an example of a plastic surgery that can have both functional and cosmetic goals. You can have an eyelid lift to rejuvenate the area around your upper or lower eyelids or you can have the surgery to correct a problem that affects your vision. If you are interested in eyelid surgery, you can discuss your goals with a facial plastic surgeon to help determine whether you're a candidate for cosmetic or functional blepharoplasty.
What Are the Goals of a Cosmetic Blepharoplasty?
The goals of a cosmetic blepharoplasty depend on the location of the surgery and the issue that is bothering you. Blepharoplasty can focus on the upper eyelids, lower eyelids or both.
An upper eyelid lift focuses on tightening relaxed muscles in the upper eye area and on reducing excess skin in the area. You might choose to have an upper blepharoplasty if your upper eyelids look or feel heavy and droop over your eyes. Droopy, heavy upper eyelids can make you look tired or can add years to your appearance.
The lower eyelids can also change as a result of the aging process. The skin of the lower lids can stretch and the muscles in the area can become weaker, creating droopiness under the eyes. Some people also notice that fatty deposits form below their eyes as they get older, creating bags beneath the eyes.
A lower eyelid lift can help to tighten the lower lids, smoothing the skin and creating a more youthful look. During the procedure, a surgeon can also remove the fatty deposits beneath the eyes to reduce the look of bags and to make the eyes less puffy.
Although an upper or lower eyelid lift can be performed on their own, some patients decide to combine the surgery with another procedure, such as a facelift or brow lift, so that they look more youthful and rested all around.
What Are the Goals of a Functional Blepharoplasty?
While a cosmetic blepharoplasty aims to improve your appearance, the goal of a functional blepharoplasty is to correct a medical issue or a problem that affects the way your eyes function. One of the most common goals of a functional blepharoplasty is to improve your vision.
Usually, a functional blepharoplasty focuses on the upper eyelids. The upper eyelids can sag or droop over the eye itself, blocking your vision.
In some cases, the sagging upper eyelid can make it difficult for you to wear contact lenses or glasses to improve your vision. You might need upper eyelid surgery if you have ongoing pain in the forehead area. When the skin around the upper eyes is sagging or heavy, people tend to strain their brow muscles trying to elevate the upper lids. Functional blepharoplasty can lighten the load on your forehead muscles, helping to alleviate your pain.
Another goal of a functional upper eyelid lift is to minimize irritation that can occur when the skin of droopy eyelids rubs together.
What Is Ptosis?
Sometimes, drooping upper eyelids are called ptosis. Ptosis develops when the eyelid droops or falls to a lower than average position. In severe cases, ptosis can block or obstruct your vision and need to be corrected.
Several things can cause ptosis. Some people are born with droopy upper eyelids on one or both eyes. If the ptosis is severe enough to block a newborn's vision, surgery is usually recommended right away to fix the issue and to prevent long-term vision damage from occurring.
In cases where the drooping upper lid doesn't completely obstruct a baby's vision, surgery to correct the issue might be delayed. Usually, a child born with mild ptosis might have a functional blepharoplasty around the age of five.
You can also develop ptosis as an adult, as a result of the aging process, because of a tumor or other issue with the eye or because of muscle disease. If the ptosis is due to aging, functional eyelid surgery can help to correct the concern. If you have a muscle disease or a problem in your eye, such as a tumor, your surgeon will most likely try to treat the disease or tumor before recommending surgery to tighten the eyelid.
How to Tell if You Are a Candidate for Blepharoplasty
Whether for functional or cosmetic reasons, blepharoplasty isn't for everyone. Good candidates for the surgery are usually in good overall health. If an underlying condition is contributing to your eye issues, your doctor will most likely treat that condition first, before recommending that you have surgery to correct any lingering drooping in the eyelid.
If you have one or more of the following and are generally in good health, blepharoplasty might be right for you:
Vision problems caused by drooping upper eyelids (functional blepharoplasty)
Puffy under-eye area (cosmetic blepharoplasty)
Bags under the eyes (cosmetic blepharoplasty)
Folds or sagging skin above the eye (cosmetic blepharoplasty)
A tired appearance (cosmetic blepharoplasty)
Does Insurance Cover Blepharoplasty?
For the most part, insurance companies do not cover plastic surgery when it's performed for cosmetic reasons. If you're interested in an eyelid lift to look more youthful or awake, the odds are that your insurance company won't pay for the procedure.
It can be a different story if you need functional blepharoplasty. If you can prove to your insurance company that your blepharoplasty is medically necessary, you might be able to get it to pay for a portion of or all of the surgery.
If you're considering functional blepharoplasty and are interested in learning more about your insurance options, it's a good idea to call your provider directly. Depending on your policy, your insurance provider might require documentation upfront that shows that the surgery will provide a medical benefit.
Schedule a Blepharoplasty Consultation With Dr. Baker Today
Whether you're considering an upper or lower eyelid lift or a functional or cosmetic eyelid surgery, your best option is to discuss your options and expectations with a board-certified plastic surgeon. Dr. Stephan Baker is double-board certified and specializes in blepharoplasty, as well as other facial plastic surgeries. He's happy to discuss your surgical options with you and help you choose the one that will allow you to reach your goals. To schedule a consultation with Dr. Baker, call (305) 381-8837 or fill out our online contact form.