Restoring Volume During Your Facelift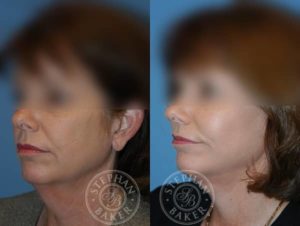 Facial aging can come in many different forms. Wrinkles and sagging are usually one of the first signs that prove you're getting older. You may try to use at-home products to stave off the effects of time, but it can often be a losing battle. Restoring firmness to drooping facial muscles by using some cream can be difficult. To counteract these aging indicators, you may turn to facelift surgery, which can help revitalize your appearance.
However, you may find that in addition to your sagging features, you have also lost your youthful, attractive volume. Since volume loss is closely related to facial aging, you may consider combining fat transfer with your facelift procedure.
What Is Achieved With a Facelift?
A facelift is designed to treat aging of the lower face and is often performed in conjunction with a neck lift to target facial drooping. A facelift restores a firmer and more youthful facial appearance while smoothing fine lines around the nose and mouth. However, if you have lost volume around the cheeks, you may still have a gaunt facial appearance, even after facial surgery.
Why You Should Treat Volume Loss
It may feel counterintuitive to some people, but there are cases where fat is a good thing. Facial fat, when positioned in the correct areas, gives your face a plump, healthy appearance that we often associate with a young, fresh look. When you lose volume, your face might begin to take on an aesthetic that is too angular and shallow, making you appear chronically fatigued. Restoring lost volume to your face can help you regain that youthful glow.
Fat Transfer to Restore Volume
While there are a few synthetic fillers on the market that help restore volume to the face, those results last only a few years, at best. Fat transfer, on the other hand, is a natural filler comprised of your own fat cells. These purified cells are grafted into the face, restoring volume, and helping sculpt a beautiful shape.
Fat transfer can be combined with a number of facial procedures to help refine shape, but it is commonly combined with the facelift to restore lost volume around the cheeks. Combining these two procedures can provide you with complete results, helping you look revitalized and rested.
For a facial rejuvenation consultation, schedule an appointment with Dr. Baker by calling our office at (305) 381-8837, or you can contact us online.