Is Facelift Surgery Safe for Me?
One of the most common surgical procedures among both men and women is facelift surgery. Facelift surgery can correct facial imperfections, such as wrinkles, fine lines, and loose skin, to give patients a younger and more radiant look. Although it is safe, facelift surgery requires several different considerations to be made depending on who is undergoing the procedure, making it essential for each patient to understand the benefits and risks involved with this surgery.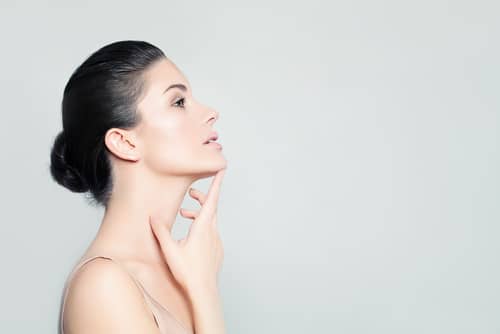 One of the main differences between the male and female face is facial hair.
Benefits
Many people who choose to undergo facelift surgery feel unsatisfied or insecure about their facial appearance due to visible signs of aging. Others may want to address certain imperfections like sagging skin or folds that have developed over time from stress, improper skin care, or sun exposure. Facelift surgery may vary between men and women but can still offer great results, such as:
Improved facial contours
Smoother-looking skin
Enhanced neck and jawline
Repaired loose skin
Tightened facial muscles
Differences Between the Male and Female Face
One of the main differences between the male and female face is facial hair. While facial hair is no issue for most women, it can play a significant role for certain men considering a facelift, as they want to maintain their original hairline. This requires incisions to be hidden in the temple area, and inside the ear and hairline to hide any visible scarring, ultimately rejuvenating the lower face and neck to restore a more masculine-looking jaw and chin.
A woman's face tends to have softer skeletal and ligament structures, which makes surgical manipulation easier during a facelift. Facelift surgery for women also involves restoring a more natural, feminine shape with gentler facial features.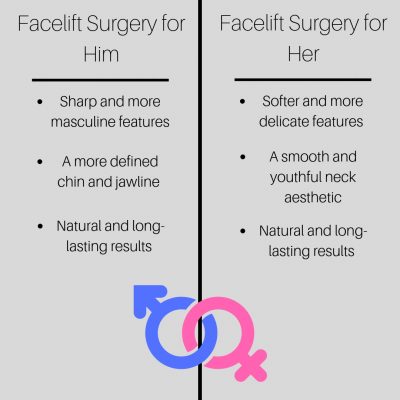 Risks and Side Effects
Although facelift surgery is very safe, there are a few things that both men and women must consider before undergoing this procedure. Male facial skin tends to have a more significant blood supply than a woman's, which can cause more bleeding to occur during surgery. Furthermore, some men may be more at risk of developing a hematoma, a temporary pooling of blood that forms under the skin after surgery. For women, this risk is only one percent, and for men it's about two percent. When managed appropriately, there are no long-term sequelae from a hematoma. Other rare risks include:
Prolonged bruising
Skin irregularities
Delayed skin healing
Infection
Temporary facial nerve weakness
You can minimize these risks by following Dr. Baker's recommendations and discussing any issues or concerns you may have during your scheduled consultation.
What to Expect
You can expect to look up to 10 years younger and enjoy long-lasting results for years to come. However, your facelift results will depend on your commitment to maintaining a healthy and balanced lifestyle. You can also opt for a combination of facial surgeries (such as eyelid surgery or a brow lift) or other non-surgical procedures along with your facelift to achieve and maintain the best results possible.
To learn more about facelift surgery and to determine if you are a good candidate, please contact our office at (305) 381-8837today.