Getting Your Body Back After Pregnancy

The birth of a child is one of the most miraculous, life-changing events a woman can experience. Your priorities and time are definitely affected, and your body is noticeably different even if you remained active and healthy throughout pregnancy. Almost all women experience sagging skin, stretch marks, deflated or asymmetrical breasts, and fat that accumulates in places it never did before. Dr. Baker offers a procedure that addresses all of these issues at one time: the Mommy Makeover.
The Mommy Makeover is a combination of cosmetic procedures that are customized for each woman according to her goals and physical anatomy. She can choose a breast lift, breast augmentation, tummy tuck, or liposuction to achieve her desired results. With only one procedure, she saves time in recovery and in the operating room and cuts costs significantly more than if she were to have all procedures done separately.
Liposuction and Tummy Tuck
Liposuction is often performed along with the tummy tuck procedure to help sculpt the abdomen and remove any excess fat. A tummy tuck alone tightens the abdominal muscles, which are usually weakened and stretched during pregnancy, and it removes sagging skin. If stretch marks are present on the skin that is to be removed, they will be removed along with it.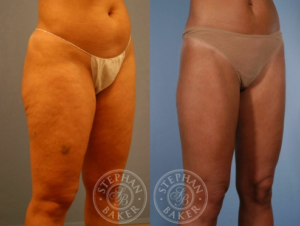 Liposuction can be performed on almost all troublesome areas of the body, such as the arms, back, abdomen, hips, flanks and outer thighs. At your initial consultation, Dr. Baker will help you decide which areas will be most advantageous to improve during your procedure. Patients should note that the procedure does not improve cellulite and assumes reasonable skin elasticity ; the main goal is to remove excess fat deposits that are difficult to remove with diet and exercise alone.
Breast Augmentation and Breast Lift

The breasts begin to change shape and size within the first few weeks of pregnancy even if the mother does not breastfeed later on. Almost all women experience some degree of volume loss, which can be corrected with breast implants. If there is significant volume loss and sagging, however, a breast lift may be needed to arrive at the best result.
If you are interested in the Mommy Makeover procedure, you can schedule your consultation with Dr. Stephan Baker by calling (305) 381-8837 or by filling out our online contact form.