Facelift vs. Non-surgical Options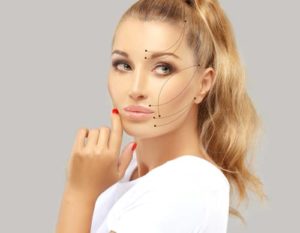 While non-surgical methods have proven to rid certain facial conditions, they may not provide patients with the significant results they are looking to achieve.
As we go through the aging process, men and women begin seeking ways to rejuvenate the appearance of their face in hopes of regaining their youthfulness.
Whether done through plastic surgery or non-surgical treatments, there are many options to choose. However, recent studies have shown more and more people, usually younger patients, are leaning toward traditional cosmetic procedures rather than non-surgical methods.
According to the American Society for Aesthetic Plastic Surgery, facelift procedures have not only regained popularly, but many people actually prefer the slow-and-steady process of long-lasting surgical results rather than the need to have numerous meetings with their surgeon for touch-up and follow-up treatment sessions.
Benefits and Similarities
Facelift surgery and non-surgical facial treatments, such as fillers and skin resurfacing, rejuvenate the facial skin that has been damaged by sun exposure, aging, or environmental factors. They also provide patients with a youthful appearance. Both procedures are also able to improve fine lines, wrinkles, and saggy skin while adding volume to the face. When performed together, they can optimize results.
Differences
There are differences between Fillers and Facelifts. They aren't always understood. And understanding what procedure is appropriate for your age is perhaps the biggest question of them all. Hopefully, this infographic can help add some clarity.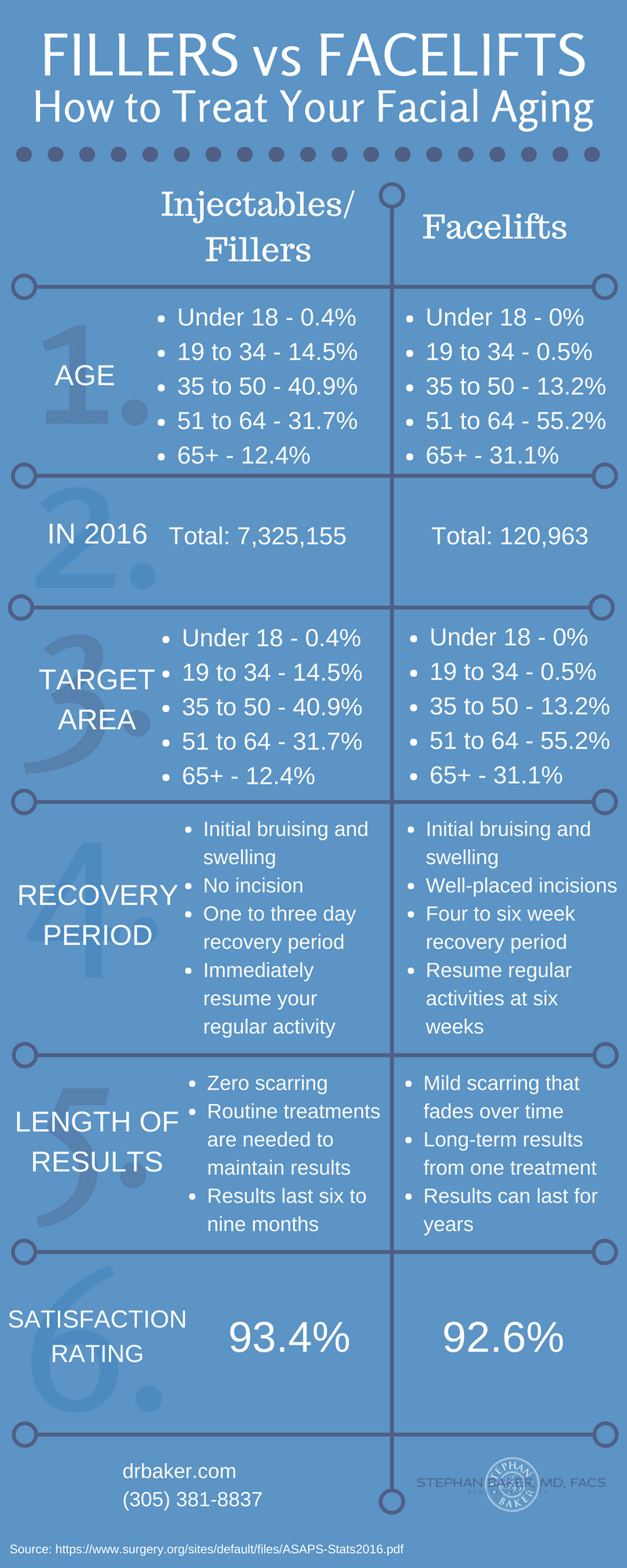 While non-surgical methods have proven to rid certain facial conditions, they may not provide patients with the significant results they are looking to achieve. These methods, while quick and effective, are mostly temporary and you will need to visit your doctor every so often for touch-up treatments.
Both methods can address sagging and excess skin; however, non-surgical treatments cannot help treat the neck area. A surgical facelift procedure is the best option for patients who wish to correct sagging that has formed around their cheeks, jowls, and neck. Facelift surgery is also able to restore tone and youthfulness to the face and neck for a natural and refreshed appearance when properly performed. Injectable facial fillers are ideal for treating lines that form around the mouth and can also be used to restore volume or correct atrophy. Other non-surgical treatments such as BOTOX® Cosmetic can address muscle induced lines in the frown, crows foot, and forehead areas. Some excessive fillers may create an unnatural and bloated appearance.
Results
Facelift surgery can enhance your appearance while providing long-lasting results, but it will not stop the aging process. Non-surgical facial options offer a quick fix but are not considered permanent. If desired, they will need to be repeated every few months. Both of these options offer great improvement to your facial features.
To learn more about the difference between facelift surgery and non-surgical treatments and to determine if you are a good candidate for either procedure, you can schedule a consultation with Dr. Baker online or call our office at (305) 381-8837.