How Does a Facelift Improve Your Appearance?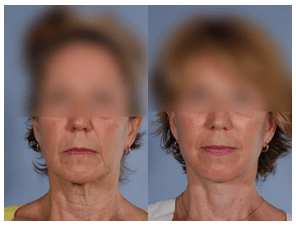 We all dread the day the mirror becomes our worst enemy, when the effects of gravity, sun exposure, and lifestyle choices show across our face. After that, it isn't long before our cheeks and jowls suddenly remind us of Halloween masks, and the sagging and loose skin and folds on our necks start to resemble the main course at Thanksgiving dinner.
Fortunately, at-home creams, skin resurfacing, and non-surgical injectables like BOTOX® Cosmetic and fillers can minimize or delay the signs of aging. However, even these treatments have their limitations since there is no absolute way to stop the aging process. Additionally, fillers can address fine lines and wrinkles, but the use of excessive facial fillers can create unnatural, bloated appearances. If you have excess facial or neck skin, jowls, and volume loss in your face and neck, you may want to consider facelift surgery. By re-tightening the underlying muscles and facial infrastructure and removing slack skin, facelifts can subtract years from your face and neck, leaving you with a balanced and natural-looking result.
Highlights Your Natural Beauty
A facelift is not designed to make you into a different person, so if you have hopes of looking like your favorite celebrity, you should think twice. The goal of a facelift is not to alter your natural appearance; it's to remove the age-induced slack in your face and to refresh your look. The mark of a good surgeon is providing natural-looking results. A facelift will reverse many of the signs of aging, allowing you to regain a more youthful, rejuvenated appearance.
A Facelift Will Address:
Sagging skin and jowls
Loose skin/folds in the neck
Drooping facial muscles
Heavy wrinkles along the cheeks and mouth
Combining Procedures for Balanced Rejuvenation
Facelifts are personalized to fit your needs since every patient will have a different degree of visible aging in various neck and facial regions. A facelift focuses on the mid and lower face; the neck part of the face/neck lift treats the annoying loose skin and folds in the neck region. The neck is one of the most important areas to address during your facelift since the neck will not effectively respond to non-surgical treatments. Also, since the face and neck are so closely related, aging in one will affect the appearance of the other. If the lower face is treated and the neck is not (or vice versa), you run the risk of being out of balance, and your results will no longer look natural. A good neck is the KEY to a younger and refreshed appearance. Performing the facelift and neck lift together produces the best result.
Facelifts are commonly combined with other facial rejuvenation procedures. The combinations that generally optimize facial appearance are:
Facelift/neck lift with upper eyelid surgery to remove excess skin from the upper eyelids
Facelift/neck lift with BOTOX® Cosmetic to treat crow's feet and frown lines, and fillers for central face volume deficiencies and fine lines around the mouth
Some patients will also benefit from lateral brow lifting if the outer brows are too low
Dr. Baker will evaluate your facial needs to determine which procedure or combination of procedures will give you the most refreshed, balanced, and natural-looking results.
If the effects of time have made you want a change, contact Dr. Baker today. Dr. Baker is a board-certified plastic surgeon with years of experience in both facelifts and neck lifts who wants to guide you through your facial rejuvenation process. To set up your consultation, call our office at (305) 381-8837 or fill out our online contact form.